The manager of the Hotel Unterellmau spends a lot of time in the saddle of his mountain bike - on tour in Austria's most laid-back bike region in Saalbach Hinterglemm in the Salzburger Land.
Well, it's clear to me that Gerhard has to be in the saddle a lot. I've seen him ride many times and was also able to see how he achieved one of his top placings in the World Games of Mountain Biking. ( 2011 Hobby World Champion on the long distance ) Gerhard is a professional marathon biker and puts his foot down.
Of course he gets around a lot and knows every kilometer and vertical meter of his Bike Circus Saalbach Hinterglemm like the back of his jersey. Gerhard is not only a hotelier and biker, he is also a co-owner of the MTB costumes, an invention that he had himself and put into practice with a friend and partner. Apart from the great material, with the casual look of the MTB costumes you cut a great figure on the trails and routes of Saalbach Hinterglemm.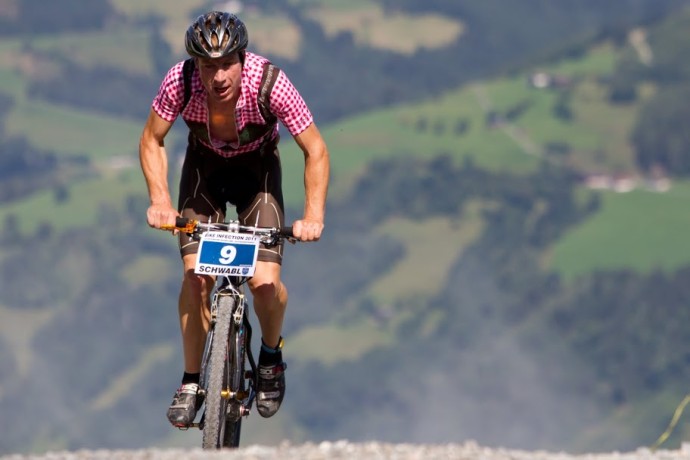 How do you benefit from Gerhard sitting on his bike so much? A good question. Only very few will accompany him on a training tour. But Gerhard is not only on the move in training mode. He's also something of a mountain bike ambassador for mountain bike holidays in the Bikecircus Saalbach Hinterglemm. He reports at regular intervals in the Unterellmau blog and in the Saalbach-Hinterglemm blog about his tours, his experiences, his visits to trade fairs, participation in races and everything that might interest you as a biker. As a chef, he attaches great importance to a balanced diet, healthy ingredients and the right amount of sports nutrition. As a guest of the Hotel Unterellmau, you will benefit greatly from this.
Gerhard loves mountain biking, he eats healthily, cooks balanced food and loves nature. If you would like to be a part of it and exchange ideas with Gerhard, then follow him on the blog and on the website. Become a guest of the Hotel Unterellmau and get to know Gerhard Schwabl, the mountain bike ambassador, personally.